1. LED Camping Light Product Review.
To go camping is getting more and more popular. As there are many kinds of camping lights to choose from, what are the most advantages of the light you may consider? Of course a useful light,especially for camping applications. These are the lights we choose to test and get to know the details we have to consider. What is good and what is not good? Let's make a test and figure it out.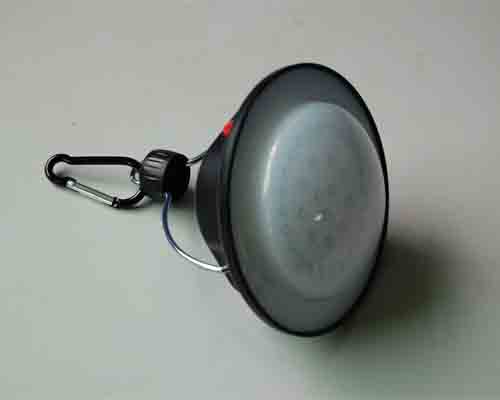 2. General product information given by the manufacturers.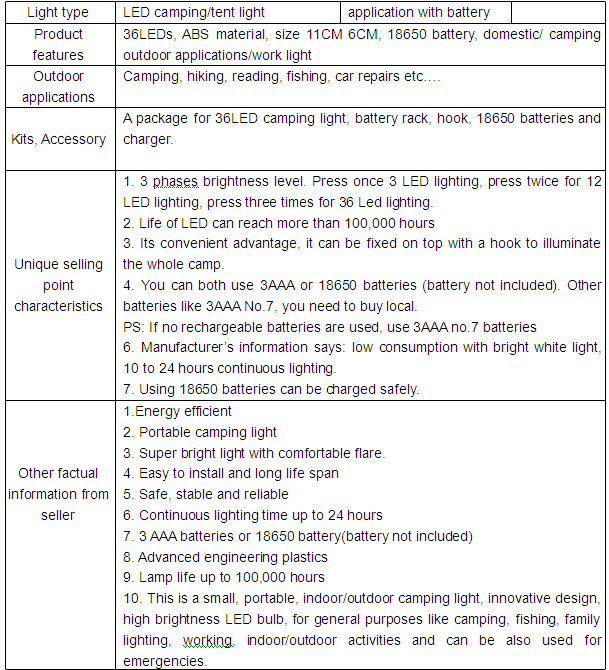 3. To choose a camping light, what most things we have to consider before go camping? Of course a light which is convenient to use, portable to take, with high intensity for outdoor activities, safe with a comfortable flare. Long lighting service, energy efficient light, portable power charger to provide electricity, excellent workmanship and construction, waterproof designed, easy installation. These are the things we all care about, so we made a test as below, to know the characteristics of this light.


4. LED camping light specifications after tested.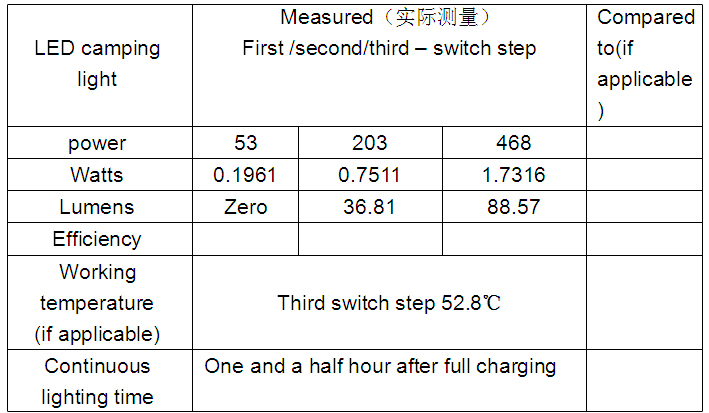 5. The Camping Light is tested by an approved professional tester, using a DC voltage stabilizer to test the wattage. Integrating sphere is to test lumens. Switch on the LED tent light string for one hour, then use 59 Mini IR Thermometer to test its working temperature, using a LED Camping Lantern that is completely charged.


1) Digital CC/DC Power supply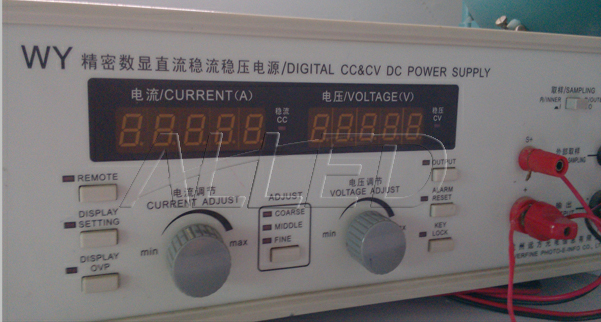 2) Integrating sphere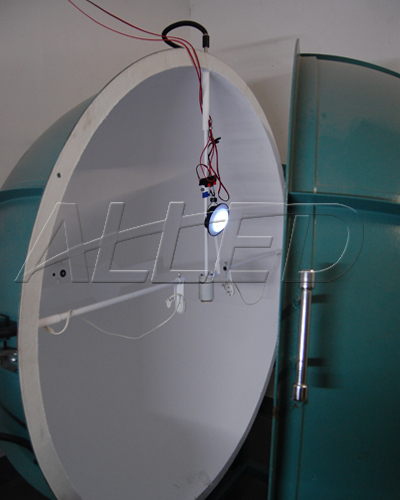 Second gear of the camping light lumens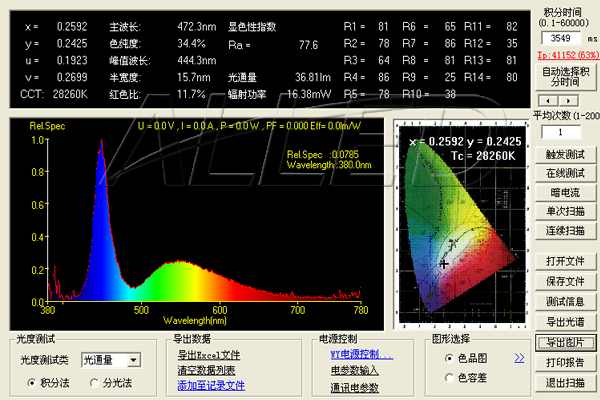 Third gear of the camping light lumens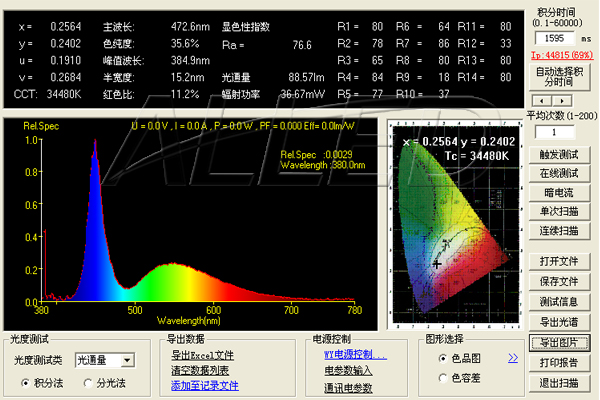 3) Working temperature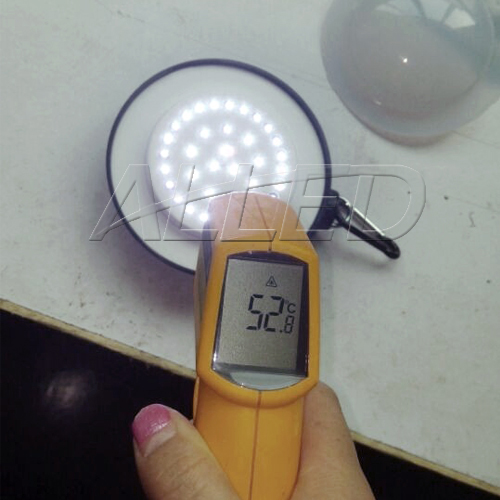 6. We set a 2 meters tent divide into two parts "Vertical illumination and edge illuminated", and then use Digital illuminance meter to test how bright the illumination in the tent. As the light and other manufacturers light description shows that it can be continued lighting time for 10 to 12 hours, I did charge the camping light for 8 hours before tested it. But finally it only reached one hour and 43 minutes then the power is getting weak for the third gear illumination. What a surprise! Does the light applicable?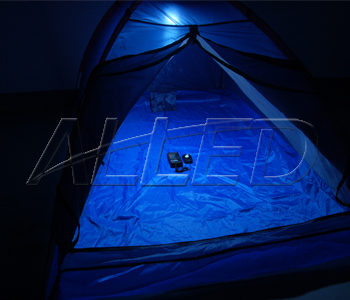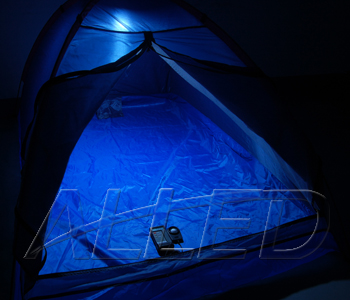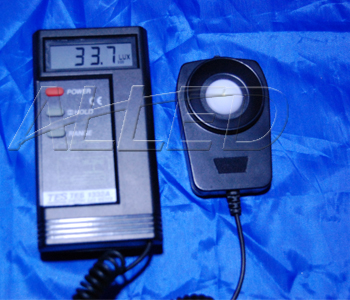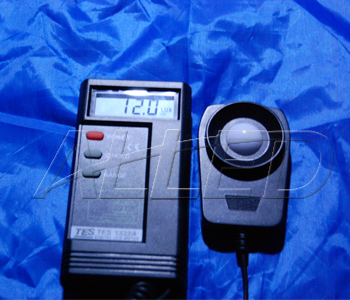 7. For installation experience about this LED camping light, I opened the plastic cover and to a look inside. If anything happens, like LEDs problem, then it's easy to check. But if it falls down, then the cover can easily be opened by it self. Hooks at the end are convenient for tents interior installation. It was easy to tie the light up on the top of the tent. But when strong wind comes, it will shaky and make a lot of noises from the hook part.
I bought it from Ebay.com.au. It was easy for me to purchase the LED Tent Lighting System by following the buying guideline.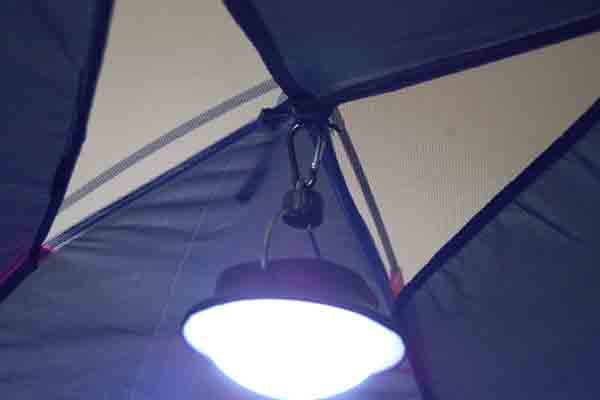 8. After we tested and experienced the LED camping light, our conclusion are that this light with weight 148G are portable to take. Full range of lighting in the tent is good. But you'd better not to stay too close with the light, it hurts eyes badly. For power charge, it is equipped with vehicle charge to avoid sudden power off, but imagine when you charge the light after eight hours, it is only lighten up not more than two hours, how can you go through this whole rest of the dark night? Regardless of this light is convenient to use or not, even the lighting is not enough.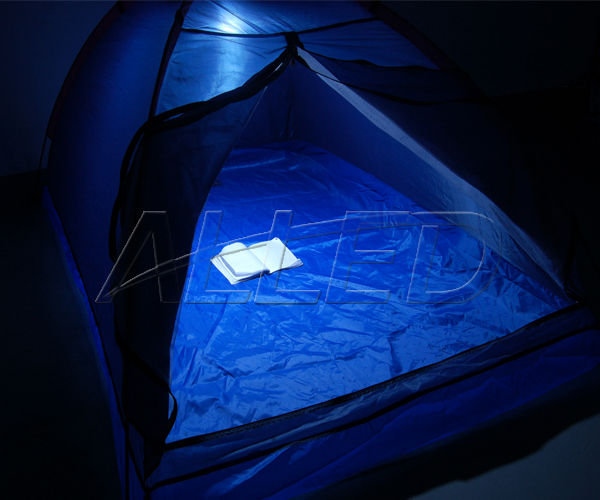 Thinking about continue lighting service, you may consider about to prepare more than 12 batteries for staying two nights, to get power from vehicle charge, don't even ever think about it. For camping light preparation, all we are expected from the light are comfortable and convenient for staying in the wild. Special atmosphere and relaxing while face the nature view, just to get away from normal life. When we enjoy these things don't forget to stay safe, which means electricity problem, to leave a far place from normal life, we must taking serious about it. In a word, a well camping preparation is a way to least you a great memory of your happy life.