Re-equip a Strip Light to a battery-operated camping light
Re-equip a LED Strip Light to a battery-operated camping light

This L ED Strip Light with two phases brightness level is a newly launched product of ALLED lighting online store in 2013.
Normally it is hard wired on your interior application. Most used as RV interior dome light, under cabinet lighting. In our product description, we specified that this light can be used as camping light, many customers raise the questions that, how this LED Strip Light can be used at camping situation, as it is only designed with two red/black electrical wires?
Actually, for camping illumination, the first problem raised is the power charging. Normal camping light is designed with rechargeable construction or linked with a cigarette connector, or solar panel, so that the light can use the vehicle battery power or use solar panel to transfer sunshine to electricity.
So to change this hard wired LED Strip Light to movable camping light, you just need to add a lithium battery as its power source. This article is to show you the step by step modification to re-equip a LED Strip Light into a battery-operated camping light.

Firstly, you should have all tools prepared.
Image below shows all the tools needed to finish the modification process.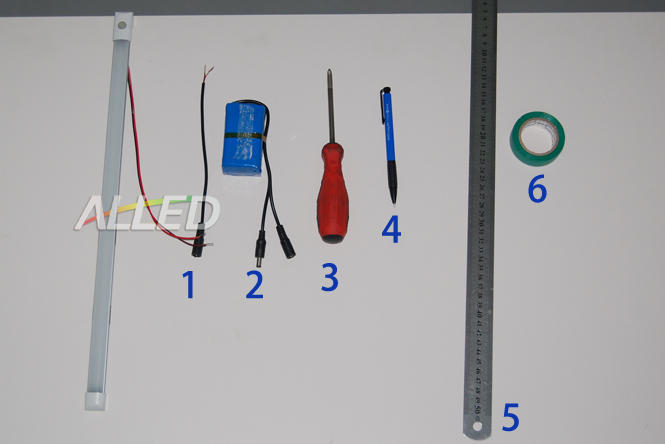 1, Cable with quick connector
2,12V rechargeable lithium battery with quick connector
3,Screwdriver
4,Pen( to mark the installation location)
5,? Rulers ( to mark the location of the mounting clips)
6,electrical tape to seal the wire connection area

Secondly, Add a wire with connector to the strip light.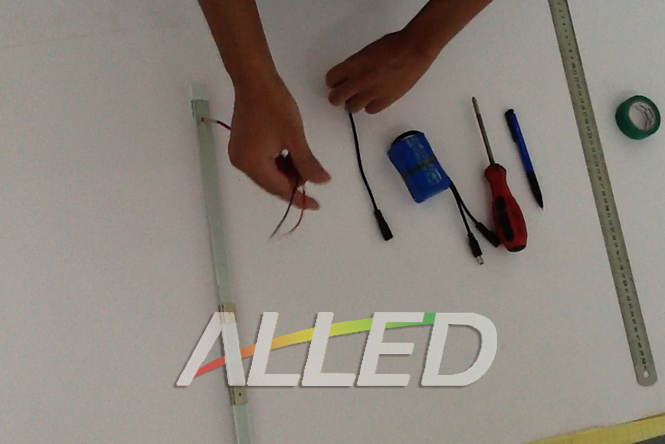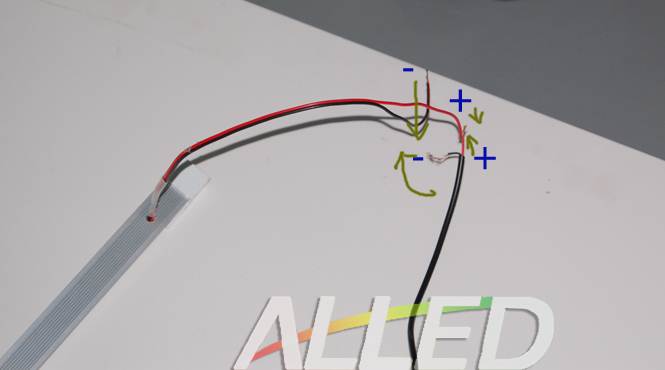 Before adding a wire with connector to the strip light, you can adjust the length of the original red/black wire by cutting a fragile away.
You can purchase a wire with connector easily at a nearby local store, as which specification to choose, you can take reference of the specification for the wire of the battery.
You do not need to remove the original wires away, if so, you will need to solder the wire with connector to the body of the light.
Just shorten the original wires, and then join the wire with connector. Sealing the wire connector areas is highly recommended.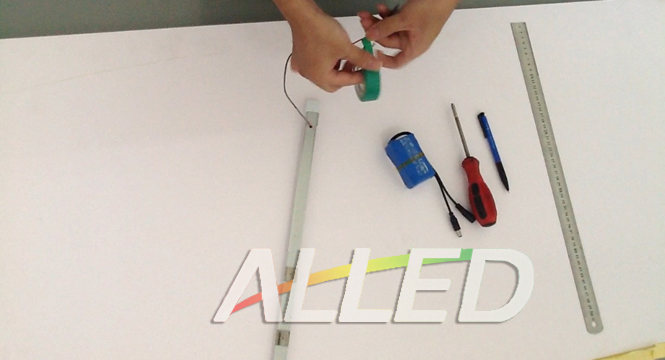 Thirdly, connect the light to the lithium battery.
This time, we choose a battery with 4300mAh. As the battery capacity requirement, you can take reference the current draw of our light and your required continuous illumination hours.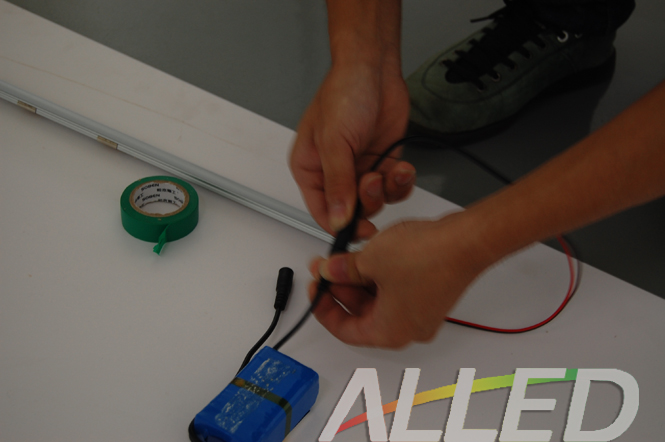 The second part is installation. After fix the light with battery, the light now becomes a battery operated portable camping light, you can fix all situation where extra lighting is needed.
This time we choose a garage to install the light.
The light is selling with all necessary installation accessories, clips and mounting screws. Before fix the light, you should draw a strange line to as your reference as two of the mounting clips should be lying on the same line.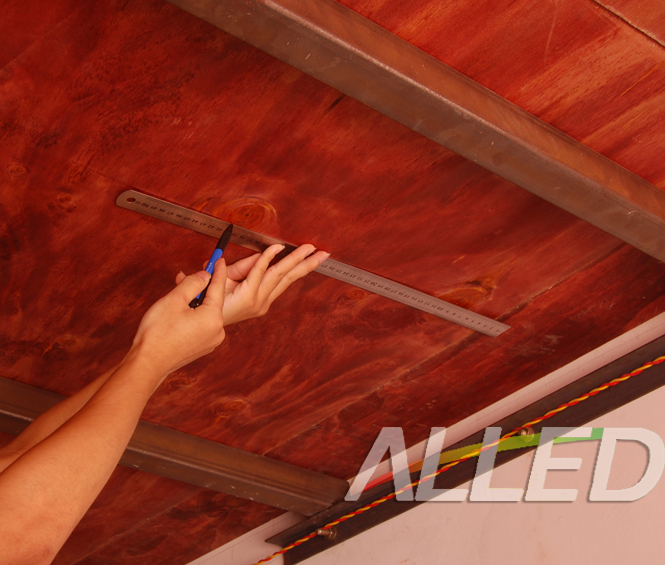 After screwing the mounting clips by the screwdriver, you can fix the light. As the placement choice of the battery, this time, we choose a nearby crossbeam to place it.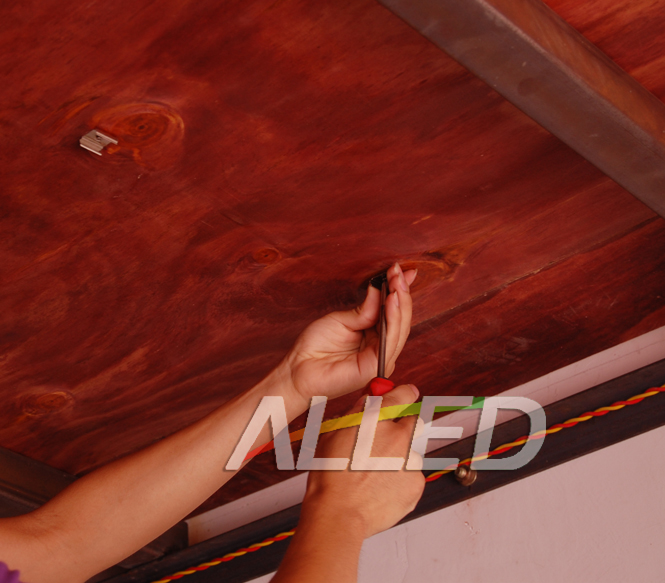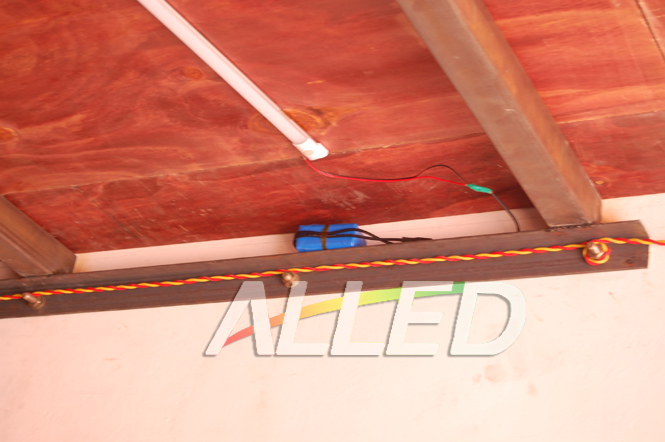 As all finished, we test its working status.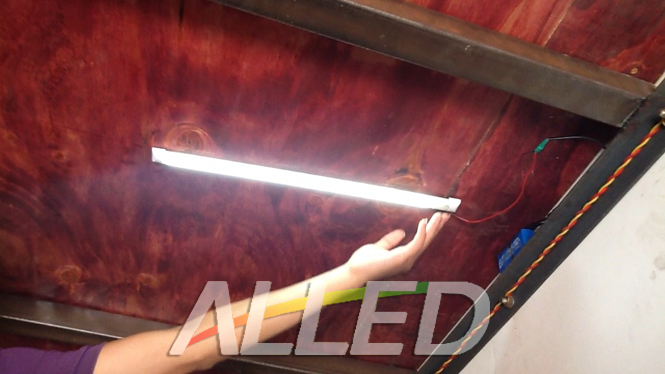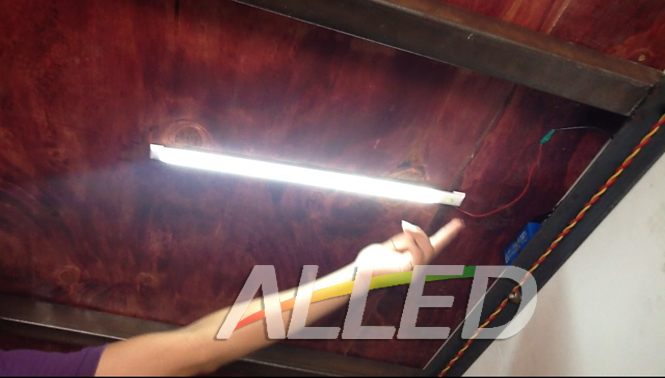 You see, this LED Strip Light is quite flexible for different application. It emits great light output and with dimmable characteristics to satisfy with your different lighting requirement. This time, we choose a 450MM LED Strip Light(P.N. AL13604C, 220mA at first phase, 550mA at second phase). And its brightness level is 160Lumens at phase1, 480 lumens at phase2. A night visible button switch is a plus for easy approach at dim environment.